Project Highlights
Prudent now has the exclusive right to earn 100% of the SAT Property by expending $100,000 on or before the first anniversary of the Effective Date: and addition $100,000 expenditure on or before the second anniversary and cash payment of $100,000. On execution of the option, the vendors retain a underlying 2% NSR, which will be payable upon commencement of commercial production. One-half (1%) of the Royalty Interest can be purchased by Prudent Minerals at any time by paying $1,000,000.

Overview
The road accessible 5,617-hectare SAT Property is an exploration stage porphyry copper-gold prospect located in west-central British Columbia, approximately 10-km west of the town of Granisle. It lies 12-km SW of the Bell copper-gold porphyry deposit and 13-km W of the Granisle copper-gold porphyry deposit, both of which were producers of copper- gold-silver concentrate in the past.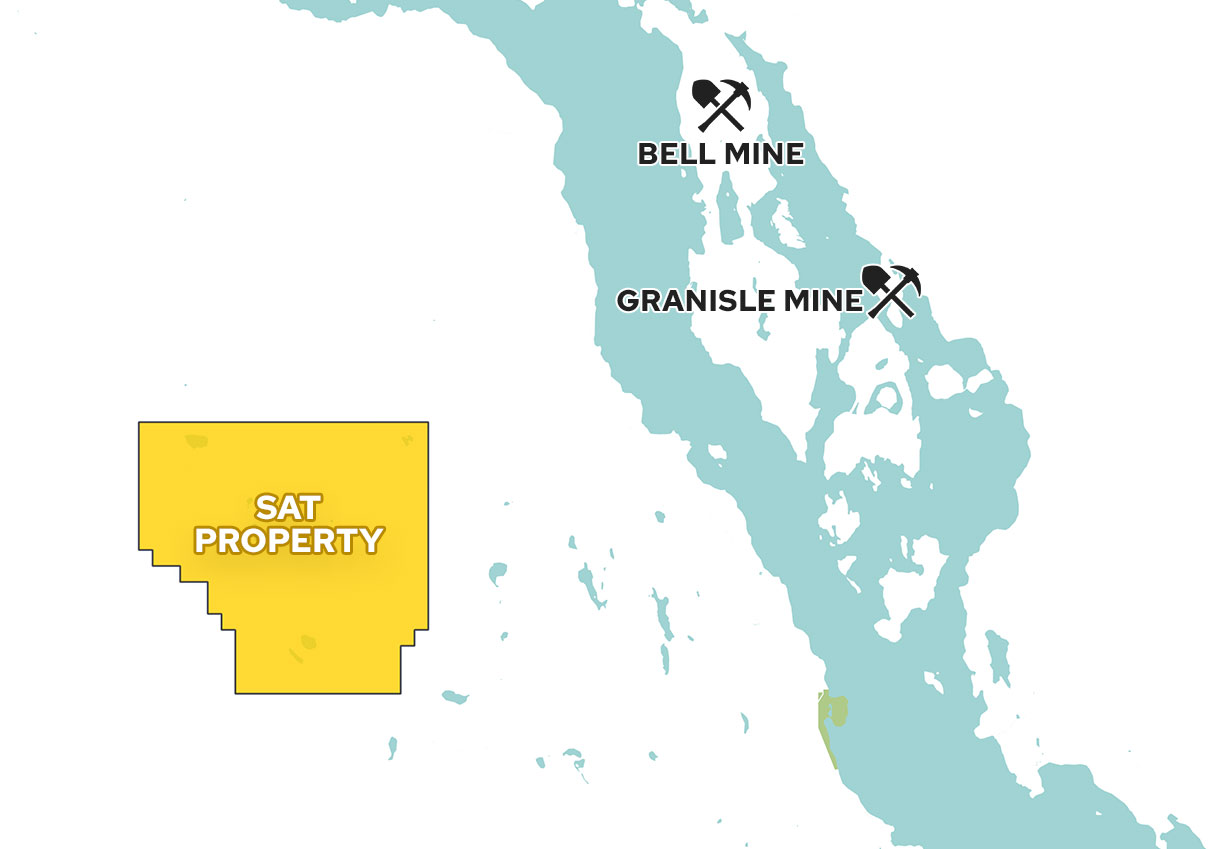 Geology
The SAT Property is located within the Intermontane Tectonic Belt, a partly collisional tectonic belt comprised of a series of accreted terranes. The Stikinia terrane, largest of these terranes, underlies the SAT Property as well as a large portion of central British Columbia. Stikinia consists of a series of Jurassic, Cretaceous and Tertiary magmatic arcs and successor basins which unconformably overlie Permian sedimentary basement rocks (Wojdak, 1998; MacIntyre et al., 1988).

2020 Work Program
Prudent completed a 5 line – 16.3-line-kilometre Induced Polarization survey during November - December 2020. The survey measured the 1st to 8th separation utilizing an a-spacing of 100 metres covering approximately 9 square kilometres. Apart from reconfirming the high chargeability response at the historically drilled SAT Main zone, the 2020 IP survey successfully outlined a particularly strong IP chargeability response on the most northerly survey line. The "CHE anomaly", open to the north, is coincident with an area of magnetic disruption that could be related to the alteration halo of a porphyry system.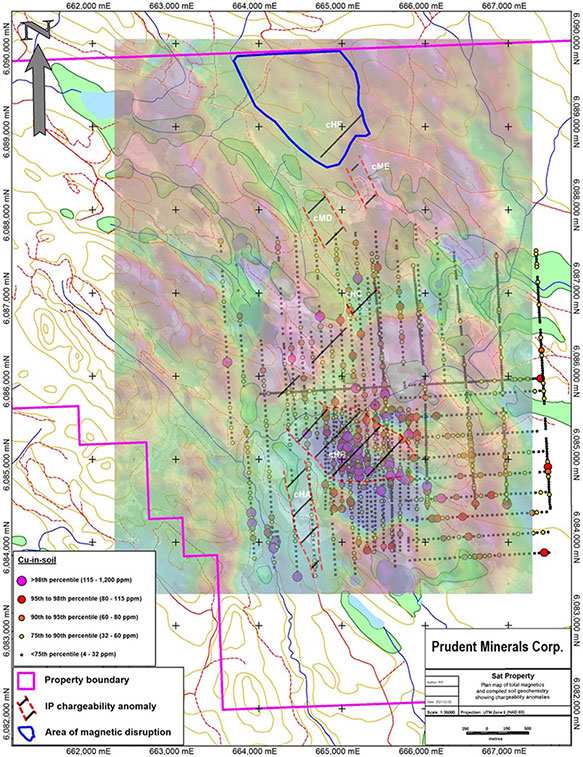 Exploration Targets
The highest priority target on the SAT Property is the historically drilled, pyrite-chalcopyrite mineralized, SAT Main zone. A two-hole diamond drill program was recommended at this zone, with proposed hole depths of at least 550 metres in order to effectively evaluate the potential for copper grades beneath the historical drilling to date at the SAT Main zone.